Hey guys! I'm a store owner and 1:6th scale action figure collector, and I get asked a question by my collector customers all the time: can XX head sculptures be matched with XX body? Or do I have an XX model of the body that, can match XX models of head sculpture? Regarding the above two issues, I can say without exaggeration, there are 365 days a year- I was asked at least 350 times.
I thought it would be a good idea to post an article on the market about how to choose the right head sculpt for your 1:6th action figures body with teaching posts. It's not just for newbies—it's also for those who have entered the circle of collecting soldier action but don't know how to play with them yet! After reading this post and learning some skills, you'll have fun collecting soldier action figures!
Some of you may be familiar with these sculptures and others may not have seen them at all. Either way, I hope you enjoy them!
This post is only for the mainstream male body and male head sculpture discussion on the market, cold or small brands of the body will not discuss much.
First, you will know that there are two types of 1/6 scale head sculpt in the market, one is a sculpt with a neck and the other is a sculpt without a neck.
1/6 scale head sculpt without a neck (Picture A)
I will find two random head sculptures to make samples, as shown in the following picture: (A, B)
Here I find a Hot Toys 1/6 scale head sculpture and use A to represent it.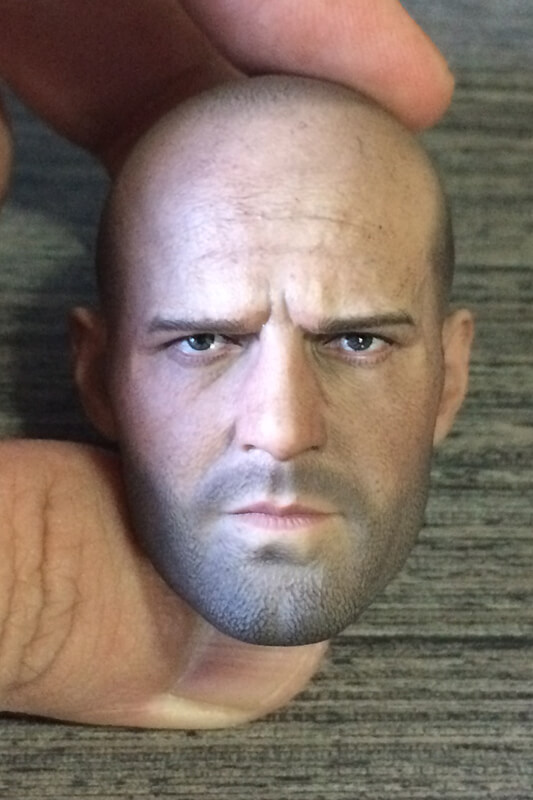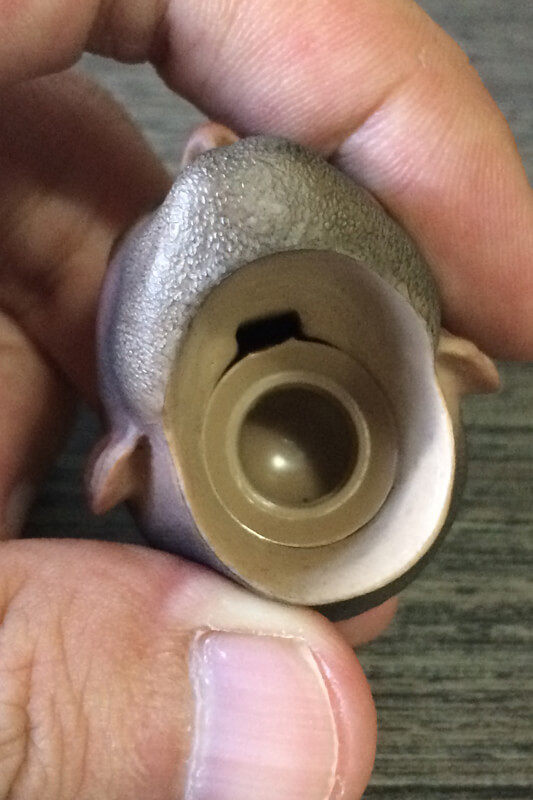 (A)
Head sculpture without a neck because there is no neck, and only a round groove inside, so you need to match a spherical neck interface. Therefore, a long neck peg joint connector is required, as shown below to match a long neck peg joint with an adapter.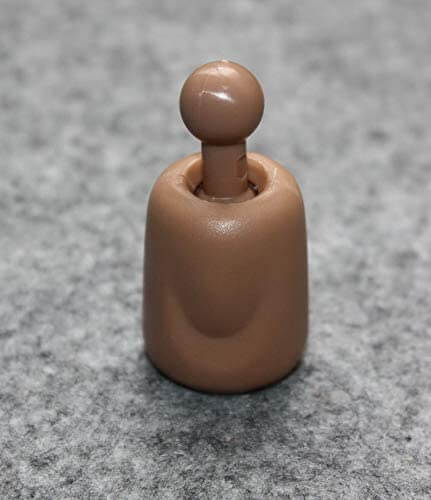 And here is the 1:6 scale Hot Toys body which is connected by the long neck peg joint with an adapter.
A sculpt with a neck(Picture B)
If you have a flat neck head sculpture, you will know that with a neck on top, the head sculpture does not need to match the long neck head sculpture connector. Like the neck in the picture, the head sculpture with a neck, the opening of the interface is also relatively large, and should be connected to the neck peg connector(short neck connector) under the figure.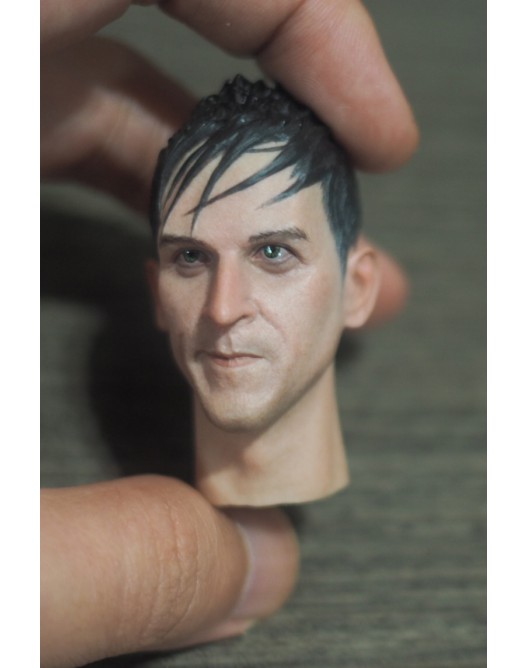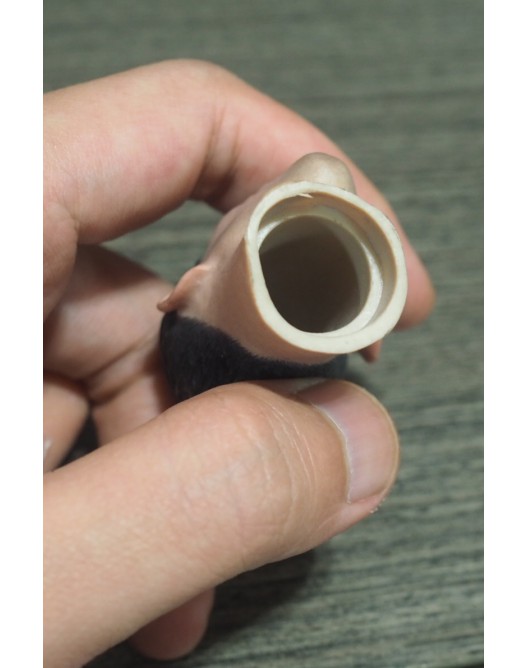 (B)
Sculpt neck peg connector
How they look when have them complete installed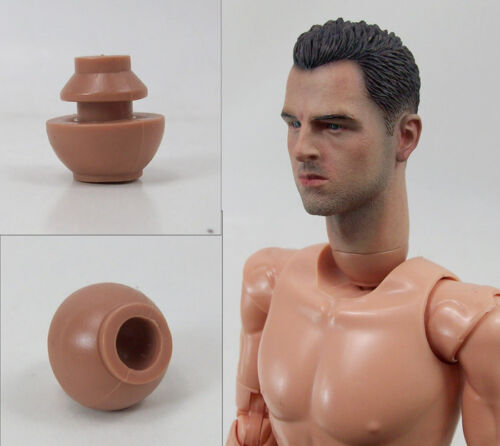 Related: 7 ACTION FIGURE BRANDS YOU NEED TO KNOW
Hot Toys Muscular Body
One type is said to be the 1/6 scale muscular body of Hot Toys, as follows.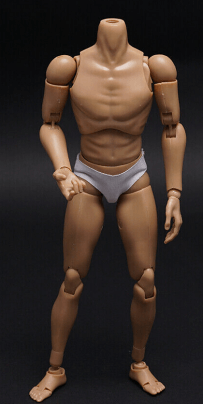 This type of body comes with a neck with a semi-circular groove on top of the neck. This can neither be connected to the 'long neck connector' nor to the 'short neck connector'.
This type of body should be connected directly to a link rod on the line and can be connected to the head sculpture without a flat neck. The following figure head sculpture can be connected to this.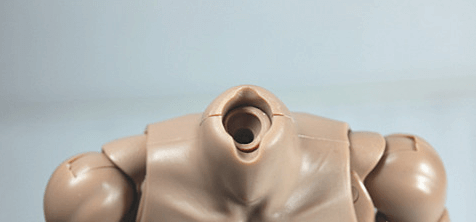 Hot Toys Muscular Body Connector As Below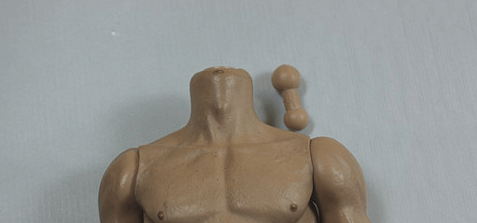 Short summary
The male head sculptures with a neck (such as the head sculpture B mentioned above) cannot be directly connected to the muscle body or the body itself with a neck. Instead, these sculptures can only be connected to an ordinary male body. If you wish to connect one of these heads to an ordinary male body, you need a short neck connector.
The male head sculptures without a neck (such as the head sculpture A mentioned above) can be directly connected to the muscle body or connected to the normal body through a long neck connector.
The Hot Toys male body is the most popular and popular body on the market. Other brands on the market, more or less reference borrowed from the Hot Toys male body design, some are not even changed directly copycat. In other brands on the market, the head, hands, and feet of the interface can basically be compatible with Hot Toys' male body.
Here I give a few examples of other brands that can be used with Hot Toys body parts: TC/TTL male body 1.0-3.0, Very Hot V1 body (cottage Hot Toys), B001-B004 body (cottage Hot Toys), ZCWO male body (basic cottage Hot Toys), DAM body, CD body, etc.
But BBI & Soldier Story Action Figures Don't compare to The Hot Toys
There are currently two brands of soldier action figures on the market products have not been able to with Hot Toys body or head sculpture compatible.
BBI Action Figures
Let's start with BBIs. The neck interface of this brand is as follows.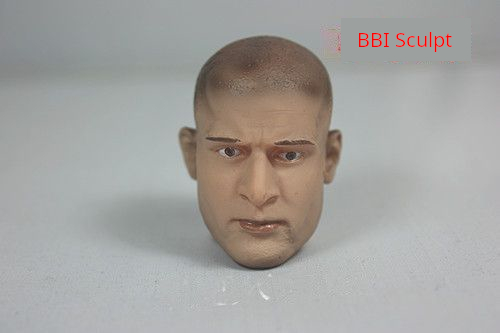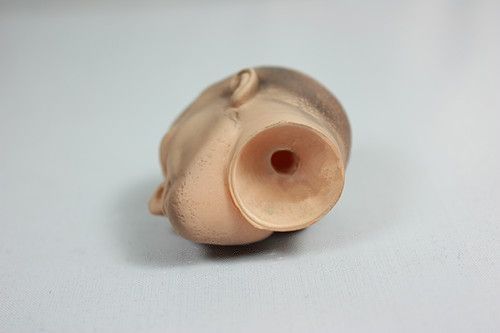 BBI's head sculpture can be connected to BBI's body or TTL/TC 3.0 male body. But BBI has long been brilliant, once very popular BBI G3.5 body now also gradually exits the stage of history, and many newbies are estimated to be unable to contact BBI goods, so this post will not be too much discussion for BBI.
Soldier Story Action Figures
The following is mainly about the Soldier Story brand shipped in the whole box of the Soldier, which we usually referred to as "SS".
Soldier Story's and Hot Toys' neck interface, hand connection, and foot connection are not the same. I use the picture to take a comparison look, you will be clear:
Soldier Story Body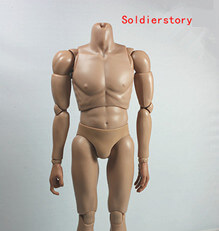 Soldier Story Sculpt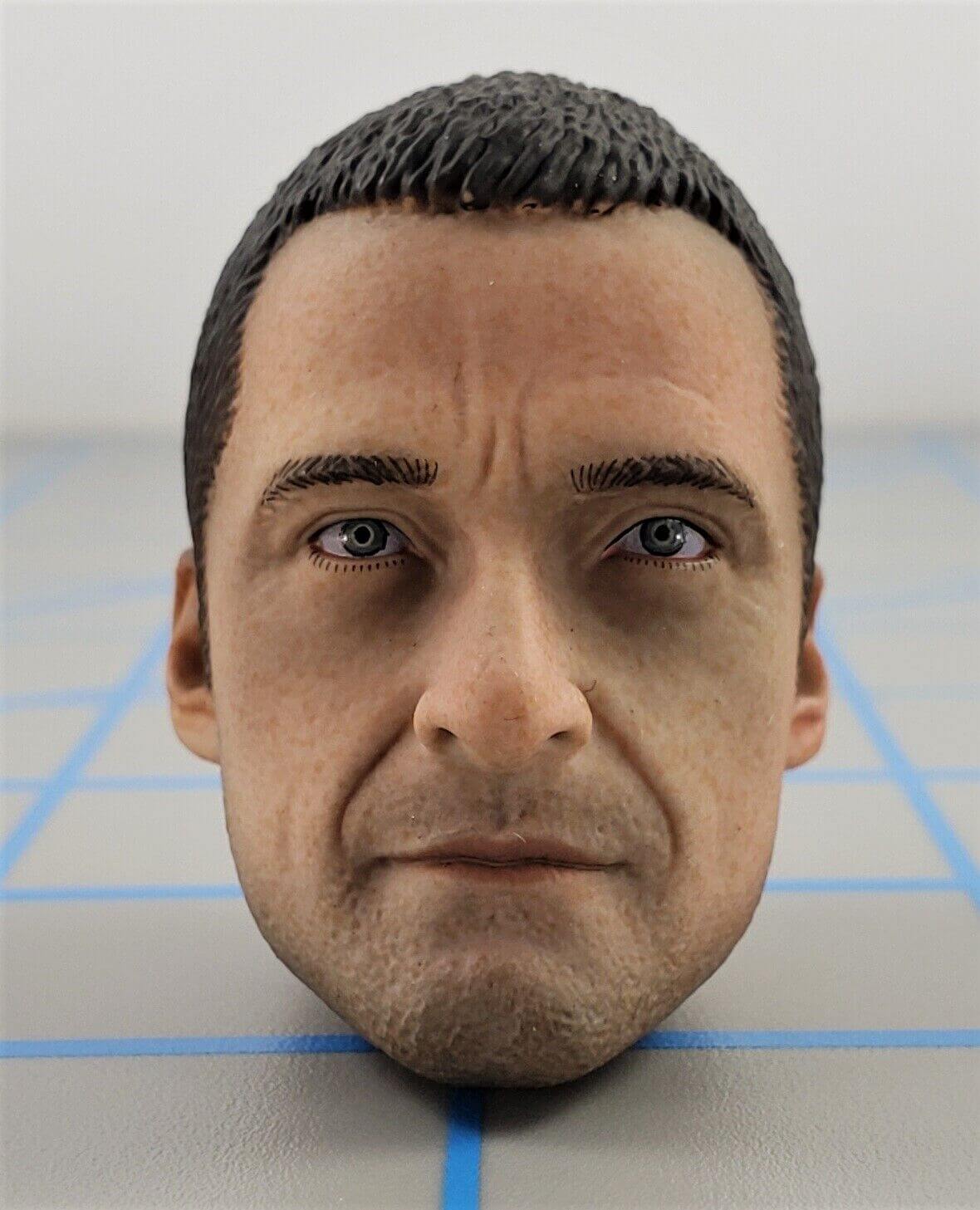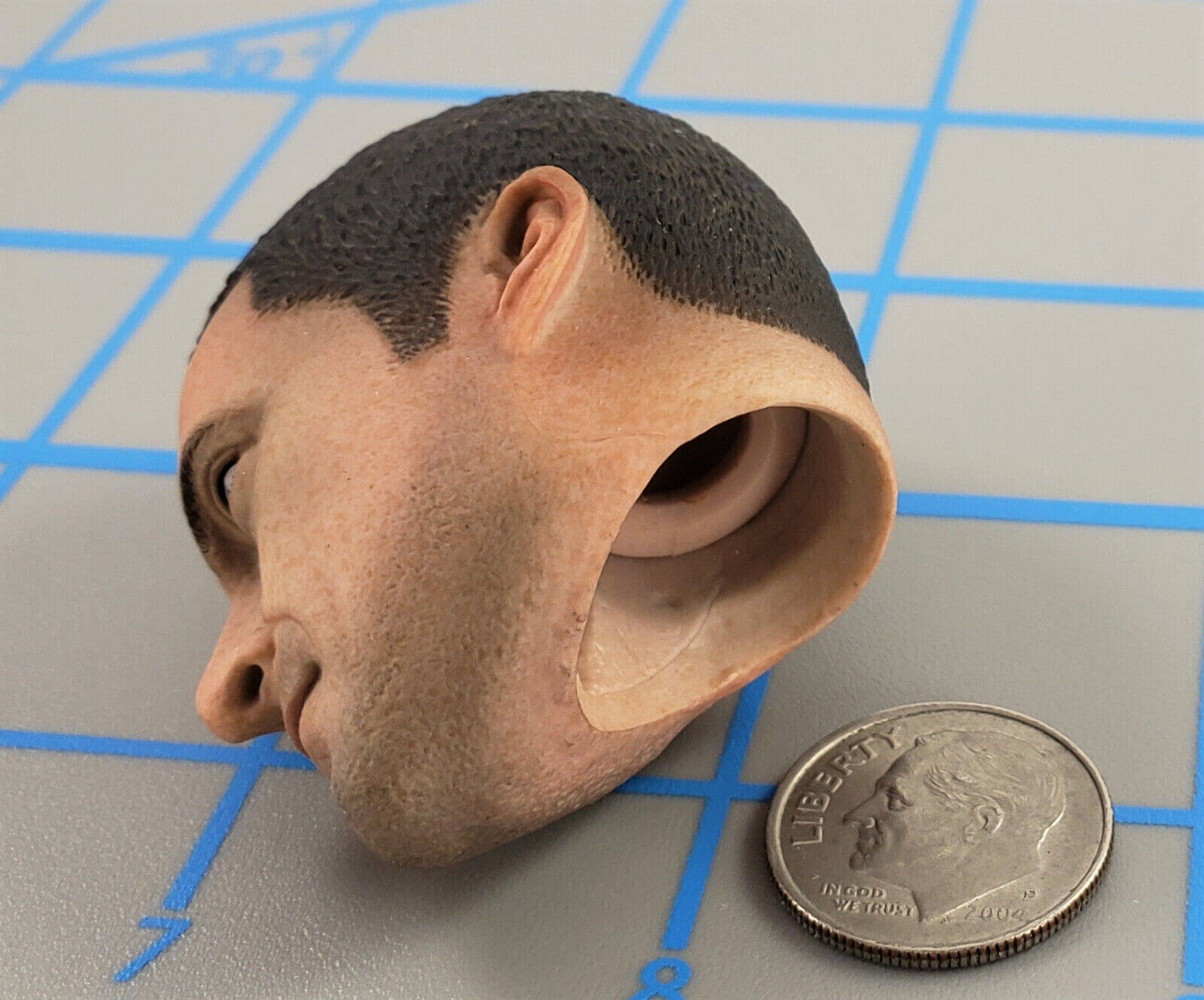 Connector Comparison Chart Hot Toys VS Soldier Story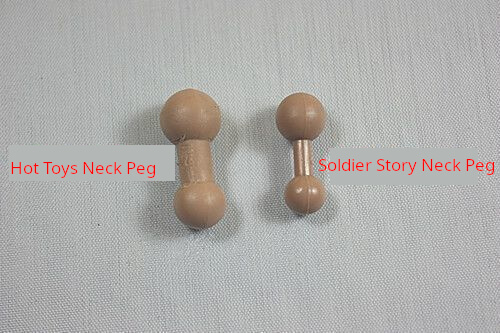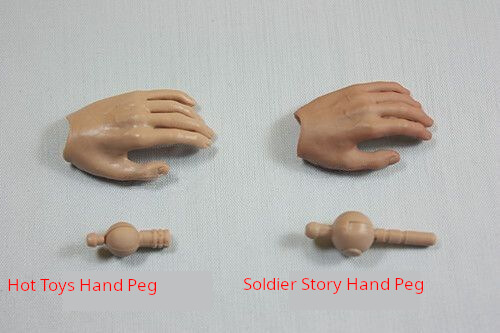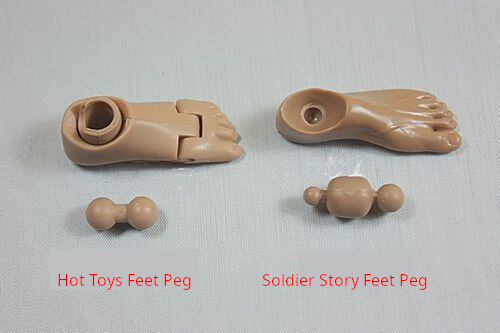 The left in the three pictures is similar to the Hot Toys parts, the right is Soldier Story soldier action figure parts. Should be able to see it all, the difference is obvious.
Normally, Soldier Story's parts can only be used on its own body. However, other brands of parts cannot be used on its body. If you must use it, it depends on your DIY skills. For example, if you want to use Hot Toys parts on Soldier Story's body, you might wrap the plugin putty or tape or something on the interface of the plug carved part of the body link lever because this will increase the line between interfaces.
Related: HOW TO PHOTOGRAPH ACTION FIGURES
Narrow shoulders Body or wide shoulders Body
I think it's better to wear a suit with narrow shoulders. It's more appropriate for film and television characters. I like wearing suits, and I usually wear them at work when I'm doing something related to work.
The wide shoulders body is good for the military class because it looks good in a uniform with guns on both shoulders.
Of course, there is no single standard answer to this question, but this is how I see it.
Conclusion
Choose the right head sculpt for your 1:6th action figure is important to get the look you want. With these tips above, you can be sure to find a head sculpt that will compliment your body and give your figure the attitude you desire. With so many amazing options out there, the possibilities are endless! So have fun and enjoy creating your own unique custom figure.